Without further ado, and because i have lots of better things to do that i would very much like to avoid doing...the second part of my overly self-indulgent festive consumerist blogging.
I asked for this on the strength of the funky dvd cover. The box tells me that it's about a 'dream terrorist', i look forward to watching it very late at night.
Amazon link
(It's cheap!)
Battlestar Galactica

Series 4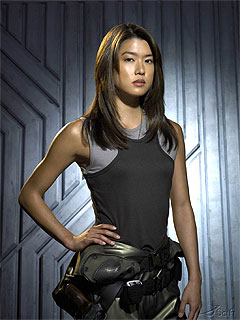 It was difficult picking
which
cylon to embelish this post with, there are so many, after all. After a great deal of contemplation (hot, sexy contemplation) i settled on the lovely Boomer. I'd boom 'er!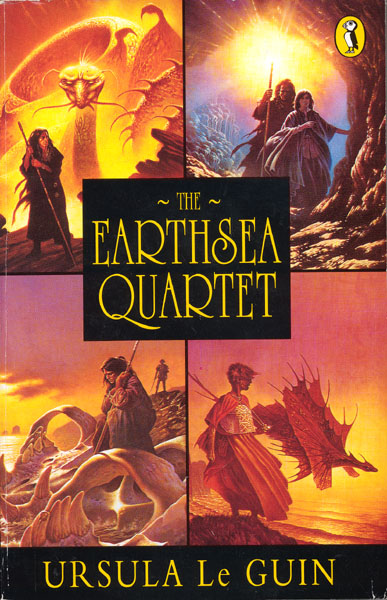 It's
technically
a children's book, but it's no Harry Potter.
Earthsea
belongs to only the smartest, strangest and most pallid of children, and seeing as i missed out on it back then i plan on enjoying it as a smart, strange and pallid adult. I'm very familiar with Ursula LeGuin's prose (
The Left Hand Of Darkness
is one of those books that i read every six months or so) and on the strength of that i'd recommend anything written by her.
I've had the pleasure of reading the first book of the four included in the quartet, and although the setting is more traditionalist than i expected from LeGuin, there's something very magical and naturalistic about it, reminiscent of Tolkien's more challenging stuff, perhaps.
Amazon link
I finished
Fire Down Below
at precisely 3:17 this morning, it concludes William Golding's
To The Ends Of The Earth
trilogy. I was happy to find a pacy and exciting novel after the doldrums that were
Close Quarters
(the second book)
.
No matter how much
Golding
i read i'm always astounded at his ability to write totally believable historical fiction and
Fire Down Below
was no exception to this. For the uninitiated, the trilogy constitutes the fictional journal of Edmund Talbot as he undertakes a voyage of extraordinary length and quality. Those comfortable with Patrick O'Brien and naval jargon will be perfectly at home here.
Talbot remains a hugely likable paradigm of the English Gentleman, wading through the early nineteenth century with all of the ego, vanity and poise that one might expect of a gentleman of his means and money!
It never betters the observational genius of
Rites Of Passage
but it was a satisfying conclusion to a hugely entertaining yarn.
Oh, and i'm listening to that Deerhunter album right now, the bassline on 'Nothing Ever Happened' is fucking amazing.
Linky.